When the sun is out during the summer months or when we are on our long awaited summer holidays, we love heading to the beach to soak up some sun, sea and sand, and basically to look and be looked at. The beach can really be just one big fashion show and even though you may be wearing fewer and more revealing clothes than usual, you can still show off your own individual style with your beachwear.
One thing that you don't need to do when it comes to your beachwear though is spend a lot of money. Let's face it, in this country our summer can be woefully short with bakingly hot summer days few and far between in places, so you really shouldn't be splashing out too much on your beachwear – the same thing goes for buying for a sunshine holiday! Luckily though, there are loads of fantastic pieces that you can pick up on the high street and online meaning that you can look fabulous at the beach even when you're on a shoe-string budget! Read on for a bit of inspiration.
Swimsuits have made a serious comeback in the last few years and are now seen as the more chic and elegant choice of swimwear, so why not embrace this trend with a drop-dead gorgeous one-piece like this lovely cut-out tropical one from budget high street brand, Primark. The bold and colourful tropical print is really on trend this season, and the cut outs are really flattering to your curves. The halter-neck will provide enough support even if you have a bigger bust, and the black background colour is ideal for concealing any lumps and bumps. And the best thing of all is of course the price which is a bargain at just £10!
A short and bright summer dress is just the thing to use as a cover-up when you are getting to and from the beach, so we love this gorgeous floral one from H&M that will look great on anyone. The sweetheart neckline is really flattering, and the light cotton material will make sure that you stay cool whilst still looking chic at the beach. The hemline may be short, but thanks to the classic A-line shape it isn't too revealing and will have you looking dainty and pretty. Available in UK sizes 6 to 20 it costs just £12.99.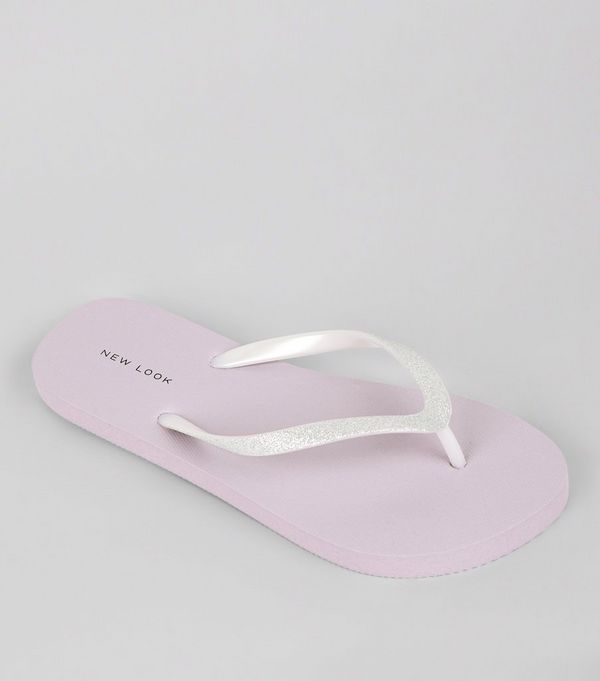 A cute pair of flip-flops is so practical at the beach when you're barefoot most of the time anyway and this is one area where you really can save money! We love these lilac glittery flip-flops which are also incidentally come in a lovely pale pink from New Look, and which cost just £4.99! They will suit the pastel trend and look great with a tan.
Finally protect your face from those harmful sun rays with a cute and practical cap like this one from SoulCal which costs just £1.99. The light blue denim will last ages, won't lose its colour so easily and will stay in style for ages making it ideal for the beach this summer!